The Top 10 Emerging Leader Philanthropic Challenge:
Get Inspired. Take Action!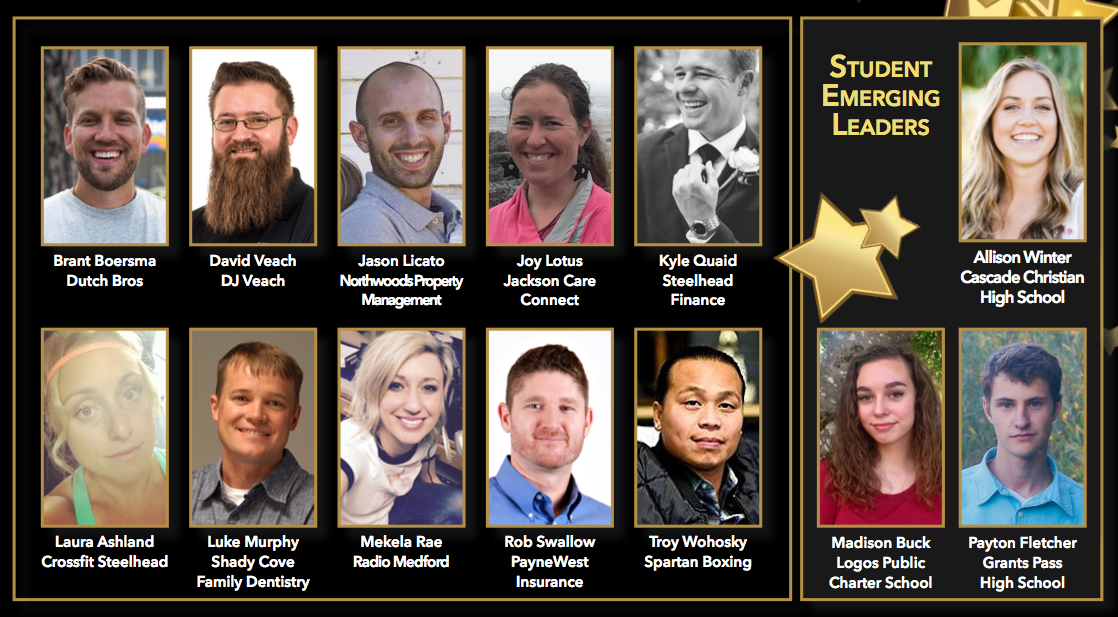 Honors 10 individuals, younger than 40, and 3 Student Leaders who are leaving an imprint on our community through their professional and philanthropic efforts, while generating support for a worthy cause. "Emerging Leader Philanthropic Challenge" is an innovative campaign that promotes community involvement, while raising financial support for Rogue Valley YFC, an organization dedicated to bringing hope to the lost and hurt kids dealing with abandonment and relational poverty.
Read individual page for complete bios on each of these young leaders and their commitment to making Southern Oregon a better and safer place to live:
Congratulations to all! The Top 10 Emerging Leaders include: Brant Boersma of Dutch Bros, David Veach of DJ Veach, Jason Licato of Northwoods Property Management, Joy Lotus of Jackson Care Connect, Kyle Quaid of Steelhead Finance, Laura Ashland of Crossfit Steelhead, Luke Murphy of Shady Cove Family Dentistry, Mekela Rae of Radio Medford, Rob Swallow of PayneWest Insurance, and Troy Wohosky of Spartan Boxing. Also included are three Student Emerging Leaders: Allison Winter of Cascade Christian High School, Madison Buck of Logos Public Charter School, and Payton Fletcher of Grants Pass High School.
Donate to an Emerging Leader!!!

Submit Your 2017 Nominations Now!!!


Attend the 2017 Leadership Luncheon!!!

Meet the 2017 Emerging Leaders!!!

Last year, over 70 potential leaders were nominated, by members of the community and individually interviewed to determine their level of interest and commitment to the challenge. 10 emerging leaders and 2 student leader finalists were selected to participate in the 30 day fundraising challenge.
The primary criteria used to select the finalists included:
Evidence of a strong interest and commitment to making our community a better (and safer) place to live
A current job that includes some level of leadership responsibilities
Indications that the applicant will be an enthusiastic learner and contributor within the peer group
Evidence of a strong work ethic
Professional maturity
High personal standards for performance.
For more information on the 2017
TOP 10 Emerging Leaders Philanthropic Challenge
email: sharre@roguevalleyyfc.org